Univer receives nearly 1 million clicks in 1 week

2

min read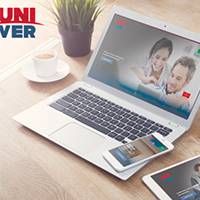 Only one week after being launched, this online Christian video on demand service based in Brasil already received nearly 1 million visits. The Univer was designed with the goal of bringing inspirational messages, words of faith, films, documentaries, and also cartoons. Univer caught the attention not only of the Brazilian public but also from other countries such as Japan and China.
Univer's digital collection offers content that is carefully chosen to meet the spiritual needs of the public from all ages including children. This new option of entertainment offers the best to the Christian family without violence, promiscuity, curse words or any content that offends the faith and the good conscience.
From Japan
For those who live far away from the Temple of Solomon of Universal Church in Brazil, Univer allows them to see the main meetings live from the Temple.
Vinicius Rocha, 23, lives in Aichi, Japan. He left Brazil 21 years ago and has not visited the Temple of Solomon. However, thanks to technology, he could watch the Sunday meeting in the Temple of Universal Church live via Univer.
He shares, "The experience was great and edifying for my spiritual life. Due to the time difference, depending on the meeting, we have to adapt to the time in Brazil. For example, the 10am meeting at the Temple will be at 10pm here in Japan. However, every effort is valid when it comes to caring more and more for our spiritual life."
From China
The Brazilian couple Alynne Lima, 34, and Alvaro Lima, 36, live in Hong Kong, China, participated in the inauguration of the Temple of Solomon. They were able to see the ceremony again as soon as they subscribed to Univer. "Watching this video made us go back in time and value each teaching that we carried inside of us since then. We also access Bishop Macedo's meetings and content from The Love School, and we will continue exploring because there is still a lot of good things for us to enjoy," shares Alynne.
The couple plans to follow a little of each video category. "We find in Univer the opportunity to invest more in ourselves so that we can have more to give to the people around us," says Alynne.
If you would like to learn more about Univer and how to subscribe, click on the following link to be redirected to the Univer website.