YPG reaching out to the community

2

min read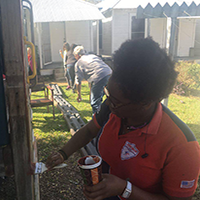 "Because you are strong" – this is the most popular phrase among the members of the Youth Power Group (YPG). Showing to others how strong they are inside is a task they do not take for granted.
Throughout the week, members of the Youth Power Group (YPG) go
to different places to bring a positive message to those who hear negative words every day. The youths go out with the motivation to help those who are suffering as they once were because they are totally different today due to the help they received in the YPG. Now that they have a transformed life, they want to show others how strong a person can be when they have God's help.
Giving back to the community
Members of the YPG are encouraged to think about the community and the needs of others. For this reason, they have decided to come together to contribute something simple, but at the same time so helpful. In the third week of February, members of the YPG in the Bronx, New York, went to the streets to distribute donated gifts. They also prayed for the people. Even in the cold weather, with temperatures of 23 degrees Farenheight, the YPG in the Bronx did not give up; the reward they received after giving these gifts was a beautiful smile of gratitude from those who often feel neglected by others. The youths say they do not do this for the fame or because they want to receive anything in return. They do it willingly from the desire of their heart, and they know that this makes God happy.
On December of 2015, the YPG in Houston, Texas, volunteered with Project Row Houses to help young mothers between the ages of 18 and 26 who are still in school. They worked to revive the backyard and playground of their houses for the enjoyment and well-being of the family. Check out a few photos below.
Would you like to learn more about the Youth Power Group? You can join them on Sundays at 1 pm at The Universal Church closest to you. If you live in Brooklyn, New York, you can find us at 1091 Fulton Street.