Night Angels in India take food to flood victims

2

min read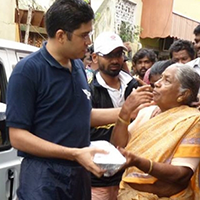 The fourth largest city in India, Chennai also has great importance in India's international relations. Forty-three consulates are located in the city. However, the communities in this large city face severe hardships as they recently went through one of the harshest rainy seasons in the past century. At least 280 deaths have been reported. The severe reality faced by the residents of the affected areas cannot be represented in these few words and limited reports. Surely, many more are in extremely distressful situations that are not spoken about. Schools, hospitals, businesses and airports had closed their doors during the aftermath of the rains, and local transportation services could not be provided. Thousands of people lost all they had in their homes, and did not have what to eat.
In such a dire situation, everyone in the community must help, materially and spiritually. With this in mind, the Night Angels of The Universal Church in India have worked tirelessly to bring a little relief to their community, not only by night, but also during the day. "The group worked very hard to distribute food to the people affected. In the first Saturday of December, we began our activities at 7 in the morning and we finalized it at half past midnight," explained Pastor Eduardo Costa, responsible for the work of evangelism in the country.
Overall, more than one thousand meals were donated. The Night Angels also took clean water to the people in the community. According to Pastor Eduardo, "More than in any other place, The Universal Church in India has the urgency to put in practice this work of upmost importance towards those in need, as it is written: 'He who has pity on the poor lends to the Lord, and He will pay back what he has given.' " (Proverbs 19:17)
Take a look at some pictures of the work of the Night Angels in Chennai, India.