About us

1

min read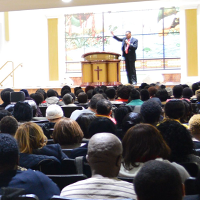 One important aspect you will notice about The Universal Church is how its doors are open 365 days a year, and the passion that it has for reaching out to those in need of spiritual guidance and restoration, regardless of their background, nationality, religion or even the erroneous choices they made in life. We believe anyone can change for the better.
The Universal Church is driven by the love its pastors, volunteers and faithful congregants have for the God of the Bible Who rescued them and for the people around them. Those who are part of this amazing work make all efforts necessary to take the good news of deliverance, family restoration and salvation to the minds and hearts of those near and far. That is why the church continues to grow within the United States and also in many other countries. Today, the work of The Universal Church is present in more than one hundred countries.
Here in our website you will find information about our beliefs, the history of the church and its founder, its daily services, locations and real life transformations that others experienced, and so can you.
Feel free to contact us or to come by and visit. Before coming by, take a look at the five tips offered here for you to make the most out of your visit.