The virtual world

2

min read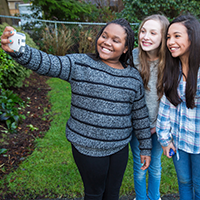 Today's children know how to surf the Internet better than adults. They create profiles on social networking sites and end up leaving clues about their personal data exposed. The big problem is that kids and teens are not mature enough to know how this can be dangerous. In virtual relationships, you fail to realize if the person on the other side has good intentions for you or not, and if they are lying or not.
Recently, a 13-year-old teenager in the capital of Brazil was persuaded to run away from home to sell drugs and commit robberies. All it took to convince this teen was one day of conversations on a social network with a drug dealer serving time in a penitentiary in another Brazilian city. It all started after the teenager liked a photo of a classmate that appeared next to the inmate, who soon came in contact with the boy and convinced him that selling drugs and stealing would bring many benefits to his life. Then he and his partner decided to run away, but were found four days later.
Where are the parents?
Parents worry about what their children are doing on the Internet, but many do not establish any restrictive rules for them.
Renato Cardoso, who along with wife Cristiane Cardoso conducts a weekly conference for parents and children at the Temple of Solomon, explains that it is necessary for parents to spend time with their children. "No wonder there are problems in the marriage, between parents and children, and between brothers and sisters. When we least expect it, we are living like strangers at home. There is a lack of sync. One does not know a lot about the other. The husband is disconnected from the wife. The parents don't know what's going on with the kids, and the house becomes a hotel," he warns.
He gives some tips to help parents protect their children: "Try to always sit together to eat meals, talk more about what's going on in each other's life, share more about what is happening in each other's day-to-day routine, show interest in the school life and in the education of your children. As for the children: open up more with your parents and do some tasks in the house together, so that the harmony of the family will be permanent."
Are you facing problems in the relationship with your children? At The Universal Church, we dedicate Thursdays to caring for the love life and family. Participate in the Love Therapy and learn how to deal with the challenges of being a parent.
Do not forget to leave your comment. Share this article with family and friends.