The African Choir that shook Madison Square Garden

6

min read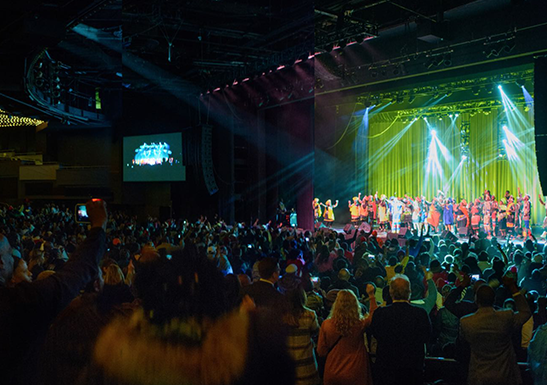 On the Sunday morning of January 17th of 2016, took place in NYC the "I Have a Dream" Concert, sponsored by The Universal Church. If Dr. Martin Luther King, Jr. could have only seen this day! His words and dream materialized, the culture of South Africa being welcomed and appreciated, African-Americans feeling proud of their diverse ancestry, peoples from various nationalities, backgrounds and colors together admiring the strength, courage and beauty of South African culture. All could experience a small hint from the numerous cultures of the vast continent of Africa.
The African Choir from Soweto, also known as the Universal Gospel Choir in their homeland, with their bright colors and sincere smiles shared with us more than their music and dance, they shared their experiences of facing racism, of forgiveness and of a new beginning. They did not give up on their dreams, they learned to believe in themselves, to forgive and to love, and they expressed this courage and joy through their performances.
They broke the "chains" inside of their mind. "There is a another chain that is not on your hands, that is not on your feet, but it is in your mind," explained Bishop Bira Fonseca. "God has brought you here today to make you free, to break the chains that you have in your life … Believe in God, but believe in yourself. You can make it!" He exclaimed as he addressed the crowd of nearly 6000 people. These words encouraged and helped many to realize that the greatest challenge is inside of us, overcoming doubts, fears and insecurities, believing in who we are and that we can and will succeed in life if we put our effort into it. This strong message was followed with a prayer to break these "chains."
The event also counted with the presence of the U.S. Senator for New York Mr. Charles Schummer, who spoke to the guests and read a piece of Dr. King's Why We Can't Wait. Senator Schummer then spoke boldly encouraging the listeners to take a stand and pledge for equality: "The circumstances may be different, but the message is the same, let us never wait, and let's fight to bring justice and equality to all of America, and let us pledge to do so on this Dr. King's anniversary."
New York community leaders were also present in the concert: Council Members Jumaane D. Williams, Darlene Mealy and Helen Rosenthal, and District Leader Geoffery Davis. Servants of the community, professionals, entrepreneurs, and law practitioners also attended, offering support to this special day in the community.
Throughout the concert, hardly anyone in the entire audience stayed seated. Madison shook! People of various ages sang and danced to the South African beats, following the dance moves of the choir. Among the many performances was the original song "Africa to America," traditional gospel songs of the land such as "Modimo," many high-energy and fast-beat songs such as "Akeko Ofana no Jesu," Zulu and Pantsula dances, poetry and testimonials from choir members, some are described below:
"I grew up in the apartheid days. We grew up with grudges, not wanting to forgive, wanting to fight. There were many times when you were walking on the streets in town, you feel and sense that you are not wanted, you are not needed there … I broke these chains of not wanting to forgive, because you walk with a heavy heart … Forgive that person that oppressed you." – Sipo
"I was a student at that time. There were a lot of protests in Soweto. We would march to hand over our petition. On our way the police would come and tell us we had to disperse, that they are going to fire shots. We didn't and they fired shots. Many students lost their lives. It was a very painful situation in South Africa. I was bitter, full of anger and hatred; I didn't know what love was when I came into my home, The Universal Church. God healed the wounds that were inside of me." – Nomacozi
One nearly forgot they were in NYC, the Theater at Madison Square Garden became a piece of South Africa in the USA. The crowd was dancing from side to side; such was the joy that many grabbed their cellphones to share the moment immediately with their family and friends.
"This is awesome! That's culture all the way, real culture. I enjoyed every moment." – Bernardine
"I thought this show was excellent. I liked to hear about Africa and the things Africa goes through. Being that I am an Afro-American, it was a great experience. I hope they do this more often." – Terry Garrison
During the event, the concert guests were also able to learn about the work of The Universal Church in South Africa and among the Maasai Tribe in Kenya. Bishop Marcelo Pires, who is responsible for the work of the church in South Africa, spoke about the situation of the Maasai and what is being done to help them: "We have opened the church there; God blessed us and we bought that land. We decided to drill a hole, and we offer water free to all of them." He was received warmly by the Maasai Tribe in Kenya and baptized by them with a new name. Bishop Pires lives in Park Station along with many other South African pastors, taking the Word of God to the community. "I live in the heart of South Africa. I am probably the only white person living there with the pastors. We live together in respect; we respect each other. The dream of Mandela came true, we are today a rainbow nation," added the bishop as he also mentioned Nelson Mandela for his positive contribution to the world. Four bishops of the church then united and prayed with the audience for the families and the community.
On the evening of the same day, a second concert took place at 1091 Fulton Street in Brooklyn, New York. The African Choir from Soweto went back home taking with them the warm welcome they received in the USA, and they left great memories for many families who could enjoy the MLK holiday weekend with the essence of what the celebration is truly about.