Are you ready to listen to God's voice?

3

min read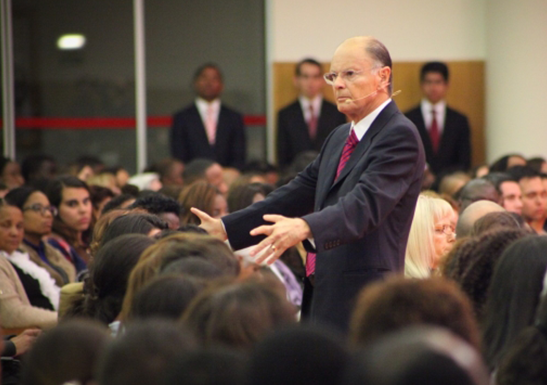 "God only speaks to us when we 'have ears' to hear Him. When we do not 'have ears' to hear the voice of God, then He allows the problems to come so that we will 'have ears.' This is how it works," he said.
The bishop highlighted that people close themselves to the voice of God when everything is going well in their life. If someone has a good job or a family without major problems, for example, they forget to follow the teachings of the Lord. Only when the consequences of a life without God come about, their ears are opened again towards Him, because they need Him to solve their problems.
"You just go to the dentist when you have a toothache, and with God is like that," explained the bishop. "So, the way God speaks to us is through pain, problems, difficulties, through the deserts. This means that if you are going through a serious problem, God is trying to communicate with you. So, God allows problems and tribulations to arise so that we will draw close to Him."
"You will only go to the dentist when your toothache, and with God is like that", the bishop explained. "So, the way that God speak with us is through the pains, problems, difficulties, and deserts. This means that if you are passing through a serious problem, God is trying to communicate with you. So God allows problems arise and tribulations so that we draw close to Him. "
The growth with God
Joel Vaz, a business owner in the furniture sales industry in Portugal, needed to make his business survive the successive financial crises that Europe has gone through. He says that in 11 years the demand for products such as furniture fell drastically within the country. Nevertheless, his company continues to grow, and he believes there is a clear reason for this:
"Success requires perseverance, constancy and involves sacrifice. Only by listening to God we can overcome the hardships and go break through the barriers without being discouraged."
Joel participates in a monthly meeting for entrepreneurs organized by The Universal Church in Portugal. The purpose of these meetings is to get entrepreneurs to interact with each other, share experiences, and understand that acting upon a rational faith is the best way to succeed.
Just as Bishop Macedo explained during the meeting in Lisbon: "You have to learn to use the problem to benefit you. It's to make a lemonade out of a lemon."
Joel understood that by being dependent on Portuguese clients his company would have very serious financial problems, like many other companies in the country. Thus, he decided to expand his horizons.
"When we started, our market was only in Portugal. Past few years, we had to go abroad to find other solutions," Joel explains."The commerce here practically stopped. Now, we begin to regain clients, and previous clients have returned to contact us, but it remains restricted. The foreign market has been good for us." Currently, the enterprise conducts business in Luxembourg, Switzerland, France, Senegal and Angola, and has plans to reach Colombia.
And you, how have you reacted when faced with a crisis? Want to learn how to move forward even in the midst of hardships? Participate today of a meeting at The Universal Church. Find a church near you by clicking here.
Be ready to hear what God has to say.
*Translated from original source: Folha de Portugal