Why must we revolt against problems?

4

min read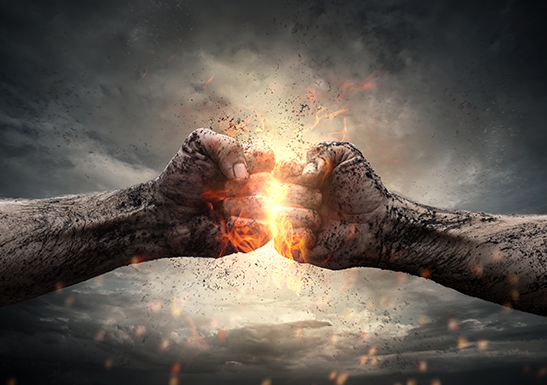 and the hand of Midian prevailed against Israel. Because of the Midianites, the children of Israel made for themselves the dens, the caves, and the strongholds which are in the mountains. So it was, whenever Israel had sown, Midianites would come up; also Amalekites and the people of the East would come up against them. (Judges 6:2-3)
We live in days of unemployment, lean years, and difficulties. However, in the history of humanity, this situation has repeated itself numerous times, as shown in the biblical passage above. There are times of "good cows" and times of "lean cows." A great example of how we can change this situation is seeing what happened at the time of Gideon, the main character referred to in the biblical passage above.
He was an ordinary man. Gideon's family was the poorest of Israel and he was the least of his family. However, although he was greatly affected by his condition, Gideon carried inside of him a strong revolt.
During his time, the people of Israel lived with in despair. The Israelites planted and watered and waited for the time of harvest with great anticipation, because it was when they saw the fruit of their work. However, the Midianites, Amalekites and the peoples from the East came with cars and animals and crushed everything. The children of Israel would run and hide in caves on the mounts, as if they were rats, because they did not have the military strength to fight them. They could not do anything about it.
It was a difficult situation and seemingly impossible to solve. How would they live without food? This was the tactic that the devil, the evil spirit, used against them.
A partnership that requires faith
Maybe you are in a situation in which you say, "I worked several years in this company and in this function; this is all I know how to do. Now that I am without this job, what will I do with my life?" However, if you have faith in God, if you have faith in the Lord Jesus, you are able to reverse this situation. Gideon was the lowest of the low within his household, but he had a sincere faith that was his strength; he had a revolt inside of him:
And the Angel of the Lord appeared to him, and said to him, "The Lord is with you, you mighty man of valor!" Gideon said to Him, "O my lord, if the Lord is with us, why then has all this happened to us? And where are all His miracles which our fathers told us about, saying, 'Did not the Lord bring us up from Egypt?' But now the Lord has forsaken us and delivered us into the hands of the Midianites." (Judges 6.12-13)
God saw in Gideon a man who could set the nation free. He saw the revolt in Gideon's faith. Behind this revolt, there was a sincere and pure faith, and that's what God uses to free a person. He wants a partnership with us, but this partnership requires faith. Not a religious faith, but one in which the person refuses to accept the destructive problems. A faith that says, "How can I believe in a God so great and live a life filled with troubles and misery?"
The true and intelligent faith does not accept this. It rejects the bad situations, and that's what makes the difference in our lives. Gideon expressed his indignation. He could only express this revolt with God Himself and not with family and friends. Gideon took His problem to the Creator. Gideon was there for all or nothing: "Either the Lord is with us or He is not. If the Lord is not with us, then get it over with soon, because we cannot accept this situation." That's basically the message that Gideon was sending.
Then the Lord turned to him and said, "Go in this might of yours, and you shall save Israel from the hand of the Midianites …" (Judges 6:14)
If you are going through a situation that brings despair, if you are in debt, unemployed, and everything in your life is confusing, know that there is a solution.
Participate today in a meeting at The Universal Church near you. You will be introduced to the Campaign of Israel and will learn how to put your faith in practice for a transformation in your life.
In the faith of Gideon!