The mission of The Universal Church in India

3

min read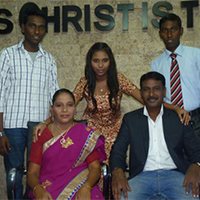 What would you do if you had to survive with less than $1.25 a day? What would you wear? Where would you live? How would you feed and care for your body, and most importantly how would you maintain hope? In India, this has been the reality of at least 290 million people. Although the country has a rising economy, the situation of those who live in poverty has not changed.
The work of the Night Angels, a group formed and sponsored by congregants of The Universal Church in India, has gained importance among the poor in the community. The group takes donation of food and clothing to those who live in the streets and shantytowns, while also offering words of advice, encouragement and hope.
"Through the work of The Universal Church, we are taking hope and faith to those who are lost. We are forming families, restoring lives and bringing solution to the problem of addictions," says pastor Edward Costa, responsible for the work of evangelism in the country.
Kumari (in the photo) confirms the words of the pastor; she is a resident of Chennai, and at the age of 43 she goes the extra mile to share her life story to others in the city. "When I arrived at The Universal Church, I had many illnesses. I would lie down in bed all day without eating anything and only feeling pain."
However, her greatest problem was her husband's addiction to alcohol, which caused the family to live in poverty. Because of his addiction, their children lacked food. Kumari remembers, "I was sick and had no conditions to help at home. He lost his job, but that did not stop him from drinking. That's when we started getting into debts."
Her life only began to change when a neighbor invited and took her to The Universal Church. "I tried to find solution to the problems in many hindu gods, but my situation only got worse. In the church it was different; I began participating in the prayers and from the beginning I already saw results. I fought for my deliverance, because I understood that this was important for my life to change," affirms Kumari.
She took her husband and children to the church, and united as a family they persevered and overcame all the problems that oppressed their lives: illnesses, addictions and even family arguments.
Kumari concludes, "Today we live in peace and free from debts. I have health and my husband has his job; we managed to have our own house. Our family is blessed and we all serve the Lord Jesus."
The Universal Church has been present in India since 1998. In addition to food and clothing donations, faithful volunteers also visit hospitals and nursing homes. This social work counts with the help of 70 church congregants who are committed to helping others. Very soon, the church will implement a new project in the community focusing on teaching those who are illiterate how to read and write. This is just the beginning of a work that has as its ultimate mission to bring life to those who are in pain and suffering.