Argentina's Caleb Group visits the Temple of Solomon

2

min read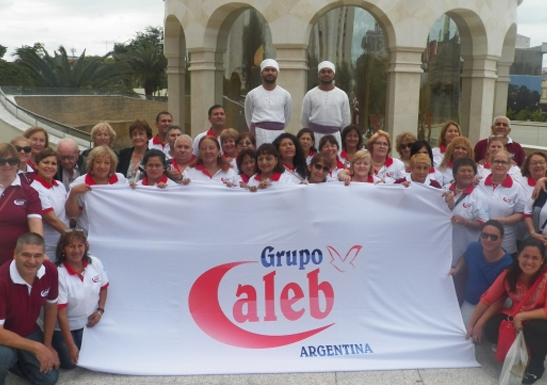 Members of the Caleb Group from Buenos Aires, Argentina, visited the Temple of Solomon in Brazil along with Pastor Carlos Assis, who takes care of the group in the country. They were the first Caleb Group members to officially visit the Temple of Solomon. They arrived in Sao Paulo on March 19th and spent four days in the city.
The Calebites, as they are lovingly called in Argentina, took part of three meetings held by Bishops Edir Macedo, Renato Cardoso and Clodomir Santos.
Eduardo Esteban Pintos, 57, says in awe, "Only those who enter this Temple, this holy place, can have the experience of this real and true encounter with God. I have assurance that this visit blessed Argentina and all the Caleb Group."
Ramón Eduardo Cejas, 59, is an assistant of The Universal Church; he could hardly find words to describe his experience. "I thank God, because when we arrived in this holy place, many images of my life came to my mind, adding to the messages I received here. The Holy Spirit searches for men and women of God to be His witnesses, by using an intelligent faith," says Ramón.
The Calebites enjoy the tour
All were amazed by what they saw and heard during the guided tour of the Temple of Solomon, learning a little more about the Bible and the culture represented in the Tabernacle, the Upper Room and the Biblical Garden.
Mirta Elena Di Lucca, 70, says that what called her attention the most was the replica of the Tabernacle. "It was the strongest experience. They explained exactly how the offerings of sacrifice were made, and what it represented at that time. It was something emotional, we will never forget this trip."
For Alicia Lidia Poblet, 85, the oldest member of the group, this trip to Brazil is part of a beautiful experience that God granted to her and her friends. "We came to meet with the true story of the Bible. We understand much better now, because of the explanations given in this holy place."
Pastor Danilo Sgambatti, responsible for the Caleb Group in Brazil, received the Calebites and Pastor Carlos Assis on March 21. The pastors prayed with the group, asking God for spiritual and physical strength and blessing all the areas of the life of each one of those who were present.
Tomasita Picon de la Veja, 77, spoke of the great surprise this entire trip was for her. "We spent wonderful moments together as a group. This is unforgettable. We are elderly, so we have to take the opportunity to know and seek the Spirit of God. The Caleb Group is spirit, will and determination."
If you would like to know more about the work of the Caleb Group in the USA, feel free to contact us or visit The Universal Church nearest you.