Inauguration of The Universal Church in Congo Republic

1

min read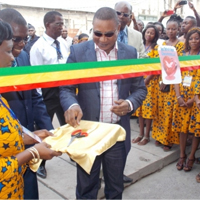 On April 26, in the city of Brazzaville in Congo Republic, Africa, nearly nine hundred people united in prayer to welcome and bless the new temple of The Universal Church in the city. Pastor Cesar Fernando, responsible for the work of the church in the country, coordinated the event, and he believes that the work of evangelism will grown and bear good fruits in Congo Republic. "We consider this a victory, because it is a beginning, a new neighborhood, and above all, in a country with various kinds of problems."
"The Universal Church came to show a different vision, with the manifestation of God's power through life transformations and miracles, and above all, to bring awareness that there is life after death," affirms Pastor Cesar. Communion with God, Salvation, a faith with actions that make a difference, and love for others – these are the main goals of the church wherever it goes.
"For Jesus to be able to solve our problems and save our families, we need to get closer to Him, to give our lives to Jesus and have faith even when everything is difficult. This is the only way our lives will be different," says Pastor Cesar. In this way, The Universal Church was introduced to the community as a fisher of men, showing the way to Salvation and happiness.
Those who came to the inauguration received as a gift a copy of Nothing to Lose 1, the first book of the biographical trilogy of Bishop Edir Macedo.
The Universal Church in Congo Republic is located at 77 Rue Bouzala Croisement Bouetambongo Ouenze in the city of Brazzaville. See below the pictures of the inauguration: