Learning to deal with your own feelings

1

min read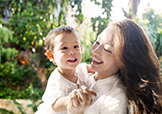 Most certainly, being abandoned by your partner during pregnancy is one of the worst experiences in life. Many women suffer, focusing on the relationship that didn't work; they keep that pain inside, poking the same wounds. They end up creating expectations and thinking that he will change, but once they notice that his attitude and character remain the same, they go back to feeling helpless again.
Drowning in tears will not bring a solution or help you to move on. Get up, react and overcome it. Decide to take these steps today:
• Detach yourself from the people that harm you, decide to be happy and stop feeding what causes your pain.
• Focus your time on other things and other people.
• Learn how to be a good mother; after all, your children have no fault in this. The earlier you leave your past behind and invest in your future, the better for you and your children.
• Do not stand still in time; rather, use time in your favor.
This change depends on you. Make a clear decision to change the story of your life, for you and your children.
The Tamar Project was developed by Godllywood to offer single mothers the emotional and spiritual support they need. This project promotes awareness and shares the faith that overcomes obstacles. The Tamar Project aims at single mothers who want to offer the best to their children, without forgetting to value and care for themselves. As a result of this project, we have seen young single mothers become strong and decided women who changed their life stories through faith.
Join us every second Sunday of the month for the Tamar meetings. Contact us or visit The Universal Church nearest you for more details.