Event of faith for peace and restoration in Ukraine

2

min read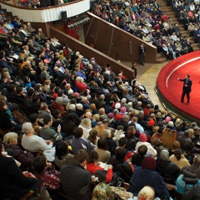 The Universal Church in Ukraine had on April 10th the event "Learn to Say Yes" for the first time in the country. Nearly one thousand people gathered in the National Circus of Ukraine in the capital Kiev. They came to seek healing and transformation for their lives.
Pastor Gilcimar Taborda, who is responsible for the work of The Universal Church in the country, joined forces with all the other pastors serving in this work to pray for the healing and deliverance of all those who were at the event.
"There is a 'yes' that transforms all 'nos.' Everyone who saw their lives being transformed learned to say 'yes' to a fulfilled life, to inner peace, to a united family, a healthy body, a happy love life, to career growth, to financial success… This 'yes' is in the power that each person has to speak and determine," says Pastor Gilcimar.
The pastor also spoke about the negativity that we might carry inside of us and that we ought to let go. He says, "We carry sicknesses, problems, frustrations… in short, we carry the weight of a life without meaning. However, this weight that millions have accepted to carry, Jesus already carried for us, and He was equally wounded and suffered so that today we would not need to carry this weight or suffer."
An inspiring life transformation
Business owner Alexanndre Velikodniy, who for over 20 years was addicted to alcohol and other drugs, shared his story during the event. He says, "In one night, I was able to drink 3 to 9 liters (101 to 304 oz) of wine. Other than alcohol, I was also addicted to tobacco, and for 27 years I was addicted to marijuana. I was ill-tempered, aggressive, proud and had a lot of debts. When I arrived at the church, I realized that my choices were causing problems to my family. Today, I am free from addictions, we have our own business, I paid all my debts and am fulfilled in all areas of my life."
Peace in Ukraine
During 33 days, The Universal Church in Ukraine did a purpose of prayer and fasting for the peace in the country. For the past year the country has been deeply affected by civil war. During the event, a special prayer was made at the foot of the cross in prol of this peace.
The Youth Power Group also participated in the event and performed a skit showing that in order for one to conquer true happiness they must say "no" to what has made them unhappy and begin to say "yes" to the sacrifice of the Lord Jesus on Calvary, inviting Him to enter into their lives.