"Nothing to Lose 3" gathers thousands of readers at the Barclays Center

4

min read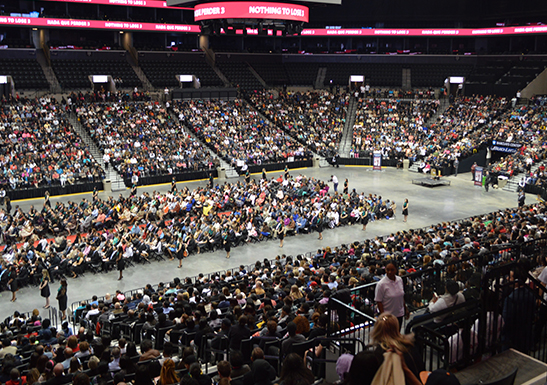 Six thousand people gathered at the Barclays Center this past Saturday, April 18th, coming from different parts of New York, New Jersey, Pennsylvania, Massachusetts and even California. Early in the morning, little by little, numerous buses began to drive up and groups of people were also walking down the streets. Most stores in this busy Brooklyn area were still closed, and those who witnessed this crowd wondered what the gathering was all about.
In this sunny spring morning, the excitement was evident and abundant, families and friends grouped up together at Barclays' entrance, taking selfies while holding their books. Yes, their books! They did not come to watch an NBA playoff game nor an ultimate boxing match, and they did not purchase tickets to a pop star's performance. They came for Nothing to Lose 3, the last book of the trilogy that has sold more than seven million copies worldwide and has inspired and encouraged people from several nations in five continents. It is the biography of Bishop Edir Macedo, founder of The Universal Church. In the three books that form his biography he shares about his journey of faith, his marriage and family, and the origin, history, achievements and challenges of the church, in an open and personal way.
A number of those present read Nothing to Lose 1 and its sequel and were eager to dive into the third book, with high expectations. The first book brought hope and encouragement to their lives, such as described by Ann Hilarie from Brooklyn. She says, "It touched my life in such a special way, because when I read it I was really in a bad place. The simplicity and honesty I received in book one and two helped me. Bishop Macedo did not give up, and as him I can't give up."
Among the crowd were also men and women who received emotional support and help at The Universal Church and were not familiar with its origins and its history. During this event, they were able to learn more about the church and the people that made such a positive impact in their lives. And those who were completely unfamiliar with Nothing to Lose and its author, but were invited by family members and friends, decided not to let the opportunity pass them by; after all, a book that has gone so far and encouraged so many can only share something good, a knowledge worth gaining.
Bishop Bira Fonseca opened the official ceremony praising God above all and thanking the congregants of The Universal Church and all of those who were present at the event, which also included the presence of a government official. Then all rose for the National Anthem of The United States of America, a beautiful moment, after which, a video was played that introduced a little about Bishop Macedo, about Nothing to Lose and its success in various countries, and a litte about the proportions and the impact of the work of the church across the world.
Also a powerful live testimony was given by someone who overcame the traumas of a troubled childhood and the addictions that robbed him of many years of his life. Jose Cruz experienced a complete turnaround after putting his life in the hands of God. He is one of thousands of examples of life transformations of those who found help through this work.
Bishop Romualdo Panceiro complemented with a message to all those who were facing problems that seemed impossible to solve. He used the example of Bishop Macedo, who trusted in God and also believed in himself, when no one but one person believed in him. This one person was Bishop Macedo's mother, Mrs. Geninha, who placed her only apartment as a collateral in order to co-sign for the rental of the building of the very first church. Thanks to her act of faith, many people were reached and helped. Bishop Romualdo then made a sincere prayer for those facing problems, an unforgettable moment.
The book signing commenced, and those who attended left with more than just a book, but with an inspirational guide to a successful life.
Nothing to Lose 3 – From Bandstand to Temple of Solomon: A Faith that Transforms sold more than 90,000 copies including its Spanish version.
You can contact us for more information, or you can also visit the official website of the book: nothingtolose.org.