Russian Pastor is consecrated

2

min read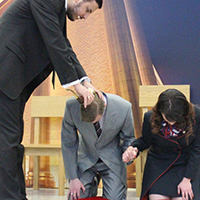 The 1900s were a difficult time for Russia, the people felt the effects of the country's economic and political crisis. The bankruptcy of thousands of companies caused millions of people to lose their jobs, followed by high rates of violence. Viacheslav Gusev, now 37 years old, and his family were affected by this financial collapse. During those times, the situation was so severe that it impeded Viacheslav from continuing his studies, causing frustration and lack of faith in him.
During his teenage years, he suffered with insomnia and had constant arguments with his parents, and he resorted to drinking as a way of numbing the pain. "I would spend four days straight drinking and thinking that I could control it. However, when I tried to stop (and failed), it dawned on me that I was addicted." As time passed by, alcohol was not enough anymore, so he turned to marijuana, heroin and amphetamines.
"I wanted to change, I was tired of having a messed up life. I started looking for help in various places, but I did not find solutions in any of them"
In 2003, five years after the inauguration of The Universal Church in Russia, Viacheslav received an invitation from a friend and decided to go to the church in Moscow. "During the first meeting I attended, I had the certainty that in that place my life was gong to change. After two months I received the Holy Spirit and was raised as an assistant. In 2008, I became an auxiliary pastor."
Approved Ministry
In 2012, Viacheslav's ministry received a renewed purpose when he married Uruguayan Maria Fernanda Varela of 33 years old. United, they share the same desire of making new disciples throughout the world; they have been to many countries such as Spain, Moldova and Latvia.
Currently they are in Saint Petersburg, Russia. On March 22nd of 2015, Pastor Eder Figueiredo, who is responsible for the work of The Universal Church in Russia, consecrated Viacheslav as an ordained pastor, making him the second pastor native from Russia. "This consecration is a confirmation that God is in our lives, showing that He has great plans for our ministry," says Pastor Viacheslav.
Other than Russian, the new pastor also speaks Portuguese and Spanish, and he reveals to us one of his dreams: "My greatest expectation is that the church here in Russia may grow and develop as the church in Brazil, having many pastors."
Viacheslav story is the result of the hard work of The Universal Church in a country marked by many crises.