Four tips to handle your time better

3

min read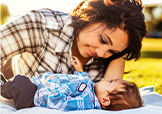 Many mothers race against time: they work, take care of their home and family, and whatever little time they have left, they use it to care for themselves.
We know that mothers of small children hardly have any time to care for themselves. With you in mind, we prepared four tips to help you better manage your time.
Make time for yourself. Have you noticed that when we are tired, we are not very useful? Rest and leisure are necessary, not only for you to be able to think but also to have other perspectives in life. This is fundamental, especially when we are running a family. Put in some extra effort and plan your week, pay attention to how and in what you are spending your time, and set up some time for yourself.
Don't leave things for the last minute. Leaving things to be resolved at the last minute will make you waste time. There are many things that can be organized before the day starts. For example, you can separate the clothes you and your child will wear the night before. If your son received an invitation to a birthday party, go ahead and buy the gift that he will take.
Set up a weekly menu. Separate some time to set up a menu for the week: what your child will take to school and what you will take to work. Go to the supermarket and buy what is necessary; this will keep you from buying things that will just sit in the pantry. This is why it is always good to plan and make a list of what needs to be bought.
Make effort to teach small tasks to your child. It seems easier for you to do it yourself, but in the long run, sharing small tasks with your child will contribute to their self-confidence, making them more independent, and consequently, you will have more time. Imagine yourself putting on makeup and your four-year-old son dressing himself with the clothes you picked out for him the night before. You can start with small things like how to put on their shoes or have them help set up the table. You can add more responsibilities as your child grows.
Play with your children. With a never-ending list of things to do, we might end up putting off the most important one: to play and have fun with our children. Never forget to separate special time for them, because it is important for you and for your children's development.
The Tamar Project was developed by the Godllywood Group to offer single mothers the emotional and spiritual support they need. This project promotes awareness, and above all, it shares the faith that overcomes obstacles. The Tamar Project aims at single mothers who want to offer the best for their children without forgetting to value and care for themselves. As a result of the efforts of this project, we have seen young single mothers become strong decided women that changed their life stories through faith.
Join us on every second Sunday of the month for the Tamar meetings. Contact us or visit The Universal Church nearest you for more details.