Thousands of Jamaicans find hope at the U-Can Event

4

min read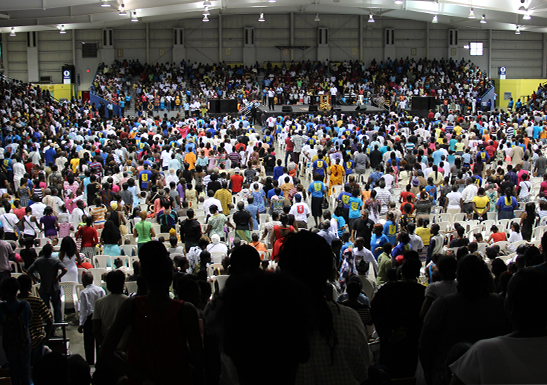 In the "Land of Wood and Water," under a scolding heat of 90 degrees Fahrenheit, a strong and determined people gathered from all over this beautiful island, refusing to give in to the problems they are facing and coming to Jesus for the strength to overcome and succeed.
On Sunday March 1st, the Universal Church in Jamaica had the "U-Can" Event, bringing renewal, deliverance and salvation to the resilient and lively people of the third largest inhabited islands of the Caribbean.
A land that exudes beauty and natural resources, making it a top tourist destination that receives above one million tourists each year, but that at the same time faces a high unemployment rate, poverty, violent crimes and drug trafficking; situations that have driven many Jamaicans to leave their beloved land and family to search for better opportunities elsewhere in the world.
But while many leave the land to find a better quality of life, the Universal Church brings the Word of Faith that transforms regardless of circumstances. Because it believes and has seen that there are no limitations for God, and that a faith put into practice can open the most difficult doors.
The event took place at Jamaica's National Indoor Sports Centre at 3pm local time, but people began arriving as early as 1pm, such was the resolve for a change in their lives. Nearly seven thousand people attended. Each person brought a bottle of drinking water and received in this bottle few drops of water from the Jordan River, blessed for this day.
Bishop Bira Fonseca, who was present on the day, began ministering a prayer for those who were sick, in pain, depressed, anyone going through emotional, physical or spiritual problems. They drank from the blessed water as an act of faith in Jesus.
Those who experienced a miracle after drinking from the blessed water could not contain their joy and gratitude to God. They came forward before the stage eager to speak of what happened, singing and dancing, because now they were free from what was tormenting them.
Time did not allow all of them to speak, but without a doubt, the positive results will reflect in their lives.
Jamaicans learned on this day that God wants to hear our voice, He wants to help us solve our problems, but for that we must come to Him, speak with Him and act our faith.
They also learned in the "U-Can" Event that every problem has a root, and those who were there received spiritual deliverance from the evil roots in their lives.
After this total spiritual purification, all received a prayer for God to bring meaning, purpose and direction to their lives. Faith brings a purpose to life, brings vision, it moves forward and it makes a way.
The bishop and pastors also prayed for inner peace; in spite of all the problems, poverty, daily battles, longing for family members who are oversees, fear for loved ones who are in danger of addictions and a life of crime, in spite of all odds, they prayed for all to have the peace that comes from God, peace that comes from knowing that through faith nothing is impossible, that they CAN and WILL succeed if putting in practice what they learned at the "U-Can" Event and will continue to learn at the Universal Church.
Solving problems and receiving miracles is not enough, much more important than all is caring for one's salvation. After a strong message of salvation, forgiveness and commitment to God, many were those who surrendered and decided to reconsider their ways.
Most Jamaicans attend traditional churches, but this day was not about religion or church, but about putting the Word of God into practice for deliverance, salvation and transformation. The work of the Universal Church is about a Faith that goes beyond the walls of a denomination, that saves families and makes impossible and amazing things happen for the glory of a living God.
The Universal Church began its work in Jamaica on December of 1996, and now it has twenty-four branches in the country.
Pastor Rohan Taylor and his wife Kerry are Jamaicans who due to the Work of God have served in other countries as missionaries, but have now returned to dedicate their lives to reach out to their fellow Jamaicans. Pastor Rohan oversees the work of the Universal Church in the island for the past three and a half years. One of their greatest challenges is in helping many Jamaicans, who might already know the Bible, to connect the great and amazing promises contained in it and the Power of Faith to their daily lives, and see the results of their faith.
The Universal Church continues to grow, opening new branches and taking the message of salvation and restoration to the minds and hearts of Jamaica.