The Universal Church in China

2

min read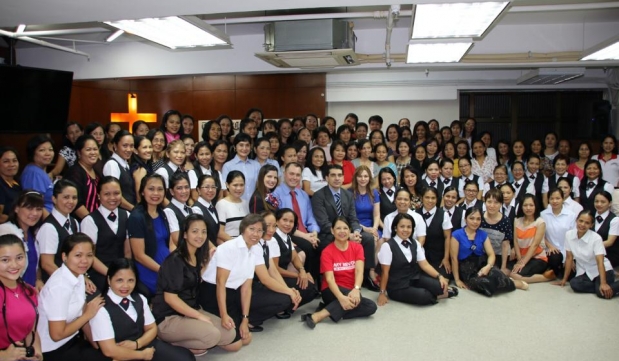 China, the most inhabited country in the world (with 1.36 billion people), is declared by its government to be an atheist country. However, the number of Christians is growing, and The Universal Church is contributing to this growth since 2004.
Other than in Hong Kong, where it initially began, the church also has a location in the island of Macau for the past year. Little by little, The Universal Church has gained the attention and the trust of the local community. Volunteers dedicate themselves to social projects and street evangelism.
The church also has a live radio program over the Internet at 10pm local time. It is a way to connect listeners to the Word of God.
Youth Power Group in China
And if you think that being a Christian is for… you know… older people. No, it is not. In this Asian country, many youths consistently attend the Youth Power Group meetings.
"They are very happy that there is a group just for them. Many youths here suffer bullying. The youth group in Hong Kong changes the way they see themselves; we help them to understand that they are special, that they can do everything," says Brazilian Pastor Gilberto Ferreira, leader of the youth group in the country.
The pastor remembers the joy he felt when a young Chinese Buddhist prayed for the first time in one of the events, and also when a young Chinese woman was baptized. "We started two years ago, and we already have youths that want to do the work of God. Soon they will make a difference."

Carlson Oponda, who is 18 years old, is a fruit of this new generation of faith. As a victim of bullying, this young man used to feel despised in school. "I had depression, I had no life, I didn't have friends, I didn't have anyone; I felt like the most miserable person. I even thought of killing myself."
This life that was lost received a new meaning after coming to the youth group. "I was welcomed with love; no one judged me or despised me. I was delivered from my complexes, and I found true happiness in God. Today, I walk with my head high, I am a happy youth, and I want to lead others to this happiness," says Carlson.
Do you know someone who lives in Hong Kong? Share with them the address of The Universal Church: 244-252 Des Voeux Road Central, Sheung Wan, Hong Kong.
You can also find out about upcoming events on their Facebook page.